Jeremy Edwards
BVetMed MRCVS
Jeremy Edwards B.Vet.Med. MRCVS qualified from the Royal Veterinary College London in 1984 and has since worked principally in small companion animal practice.
Jeremy is particularly interested in 'end of life' palliative care for cats and dogs; with 36 years experience of the euthanasia process in all species.
Now at the latter part of his varied veterinary career, he feels very privileged to offer assistance to our clients at the time when they are most in need of a calm, experienced and compassionate approach to pet home euthanasia.
The bond of love we have with our pets is priceless and Jeremy understands completely the sadness and sense of loss felt at this time – he is here to ensure that you are supported during the process and that a difficult day is a fitting dignified farewell to a much beloved animal friend.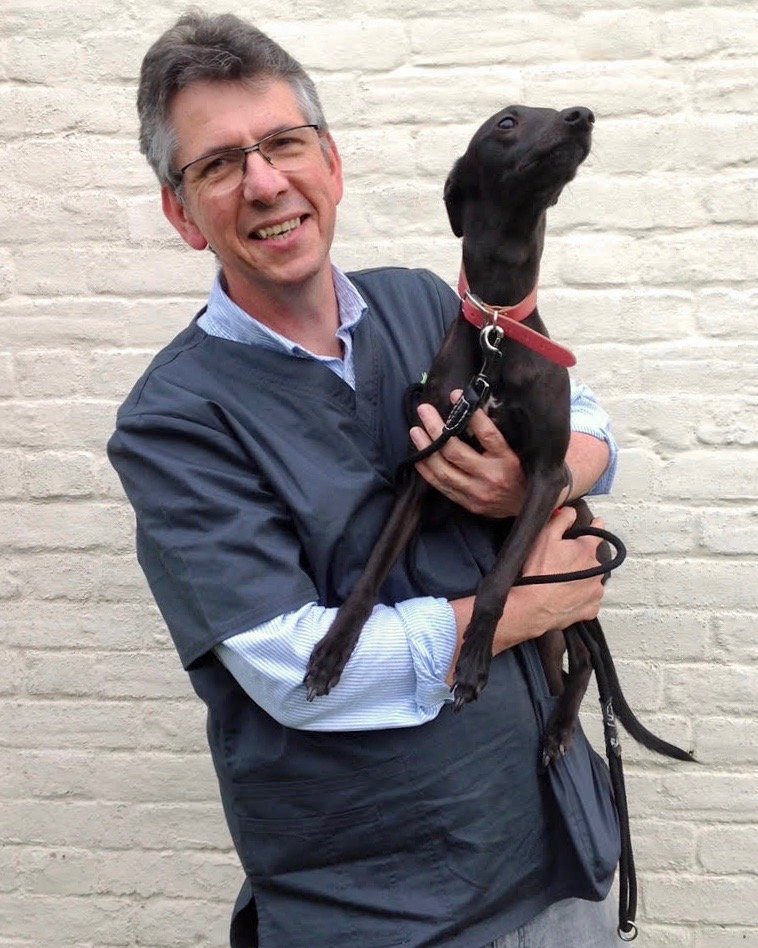 Listen to Jeremy's Second Interview on Meridian FM
Listen to Jeremy's Interview on Meridian FM
Liz has worked in small animal practice for over twenty years, since qualifying from Bristol University in 2001. She has spent the last 15 years working in London, much of which has been spent in a busy small animal and emergency hospital, where her calm and compassionate ability to help owners make difficult decisions and to provide end of life care was often needed.
She is delighted to have moved with her family to the Oxted area in 2020 and now works more locally. Liz still enjoys routine small animal medicine and surgery in practice and has a special interest in geriatric care of cats and dogs, and pain management. She holds a general practice certificate in small animal medicine and treats pain using acupuncture as well as more conventional drug therapies. Liz strongly believes that is very important to provide animals with a dignified farewell and is keen to help pets and their loving owners at such a difficult time in any way she can.
Outside of work, Liz enjoys spending time with her young family and her cat Monty, horse riding, skiing, and cooking.
Jenny Boyd
Business Manager
Jenny has brought to life Jeremy's vision of a home visiting end of life veterinary service by setting up Coming Home. Both Jenny and Jeremy feel strongly that pet parents deserve to have a choice when it comes to end of life care for their pets and with some vets finding it difficult to make home visits, this service is invaluable in the local community.
It has been extremely fulfilling for Jenny to establish Coming Home after her rounded and varied career in business and education. Firstly, in the travel industry working in sales, marketing and events for various airlines and travelling the world to over 40 countries. After having her two children, Jenny turned to education and has worked for over twenty years as a secondary school English teacher. She has contributed time during school holidays to volunteering, including at her local hospice.  
Jenny's dedication and determination has seen Coming Home grow from strength to strength with many vet practices referring their clients to them, allowing caring and compassionate end of life care in the home.  Jenny's grief counselling training and personal experiences of end of life, both pet and human, means that she can supportively take you through this painful process. She is your first port of call when you contact Coming Home and she feels privileged to assist you in your hour of need.
Kind Words From Our Clients
"My daughter first exchanged emails with Jenny, who was kind, compassionate and extremely helpful with answering our questions. Jeremy, the Coming Home vet, delivered an excellent service, as he was very kind and comforting throughout the process. It is a wonderful thing to be able to put your pet to sleep in the comfort of your own home. Minnie passed peacefully and we can't recommend Coming Home enough."
Michelle H
"Jeremy was such a wonderful vet, I didn't want to have my beautiful dog euthanised at the vets so to be able to have this service at home was exactly what I wanted. We had plenty of time to say our goodbyes and time afterwards with him, Woody had no stress and was just in his favourite chair, the ending he deserved. Thank you so much for amazing care and service throughout, you made a very difficult day more bearable."
Ruth L